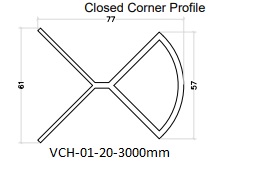 Closed Corner Profile
A closed corner profile is a type of extruded aluminium or steel profile that is commonly used in corners of the building facades. This type of profile is used to create a closed corner joint between two cladding panels, which means that the corner is completely sealed and does not allow for any ventilation or drainage.
The profile is typically made up of two separate pieces, one for each panel, that are designed to be joined together at a 90-degree angle. Closed corner profiles can be used in a range of cladding systems, including curtain walls, ventilated facades, and rainscreen systems.
They are known for providing a clean and modern look to the building facade while also helping to prevent water infiltration by sealing the corner joint. Closed corner profiles can be customized to suit the design aesthetic of the building, with various colours and finishes available such as powder-coating or anodizing.
Overall, closed corner profiles are a popular and reliable option for creating airtight and watertight corner joints in cladding systems, providing both functional and aesthetic benefits to the building facade.