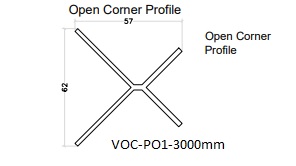 Open Corner Profile
An open corner profile is a type of extruded aluminium or steel profile used in building construction to create an open corner joint between two cladding panels. The profile typically consists of two pieces, one for each panel, that are designed to be joined together at a 90-degree angle, creating an open corner that allows for ventilation and drainage.
Open corner profiles can be used in a variety of cladding systems, including curtain walls, ventilated facades, and rainscreen systems. They provide a clean, modern look to the building facade and can also help to prevent water infiltration by directing water away from the building envelope.
In addition to their functional benefits, open corner profiles can also be used to create visually interesting architectural features. They can be powder-coated or anodized in a variety of colours to complement the overall design of the building.
Overall, open corner profiles are a versatile and durable option for creating open corner joints in cladding systems, providing both functional and aesthetic benefits to the building facade.