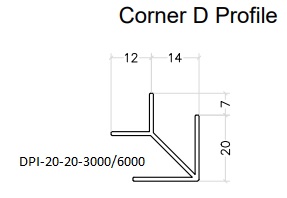 Corner D Profile
A Corner D Profile is a type of rail profile to be used for the fixing of corner cladding panels and systems. It is typically made of a aluminium or stainless steel material and is shaped like the letter "D" when viewed in cross-section.
The Corner D Profile is installed by being attached to the corner of the cladding using screws or adhesive. Once installed, it creates a protective edge around the corner that helps to prevent damage from impacts or wear and tear over time. It can also be used to provide a neat and finished appearance to the corners of cladding systems.
In addition to its protective and aesthetic functions, the Corner D Profile can also help to facilitate the application of plaster or other finishing materials. The profile provides a straight and level surface for the plaster or other material to be applied, which can help to ensure a smooth and even finish.
Corner D Profiles are available in a range of sizes and materials to suit different types of walls and applications. The choice of material and size will depend on factors such as the level of durability required, the type of finish desired, and the specific application for which the profile is being used.